Menus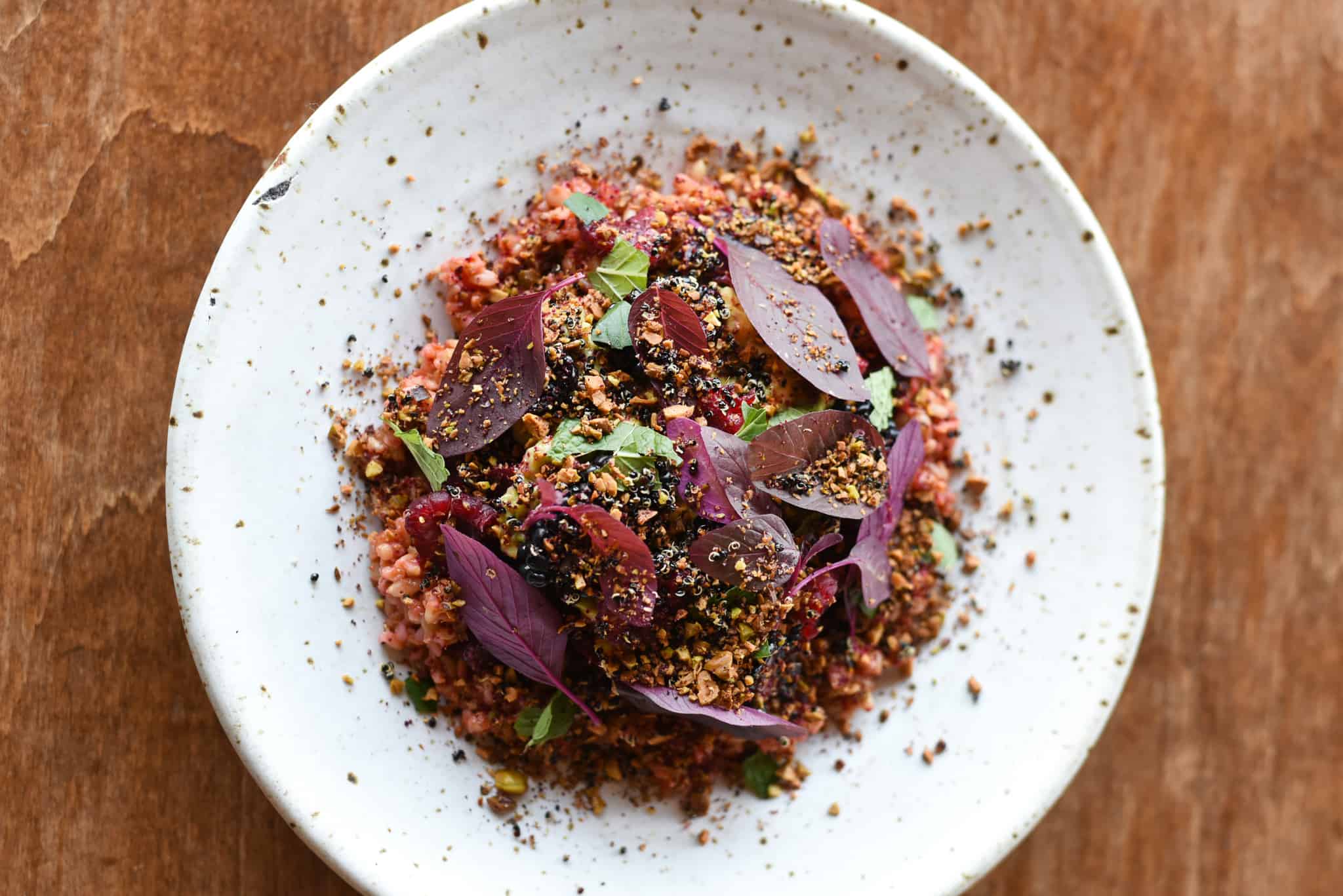 DINNEr
12.10.2023
snacks
milo & olive rosemary-garlic loaf with olive oil

9

marinated olives

9

lavender almonds

9
DINNER
white endive, khadrawy dates, hazelnut, cheddar, date-mustard vinaigrette

20

beets & berries, quinoa, hass avocado, buckwheat, radish, santa barbara pistachio

22

sprouting cauliflower caesar, cantabrian anchovy, chili oil, parmigiano

22

'coffee cake' persimmons, pancetta cotto, tamai farms arugula, juniper, yuzu

23
warm beef tongue, RC cornichons, coleman farms lovage, sauce gribiche

25

roasted coleman sunchokes, avocado crema, xo sauce, sunflower seed

21

farmers cheese gnocchi, see canyon pear, walnut, brown butter, truffle fonduta

32

transparentsea prawns diavolo with tehachapi grain project's 'eight row flint' corn polenta

36
pozole verde of rockfish, tehachapi grain project's hominy and tortilla, 'honeydew' radish

46

chicken milanesa, 'tokyo negi' onion, cracklings, date butter with ginger

48

prime brandt sirloin cap, smallhold mushroom conserva, sauce au poivre

54

pork chop, mary's pink guava, oca, 'habanada' pepper, chrysanthemum

59
dessert
warm peanut butter cookie with 'concord' grape jam

12

baked vanilla cheesecake, quince, hazelnut crumble

14

brioche brûlée with a dandelion chocolate-cashew terrine, cocoa nibs

14

honeycomb ice cream -or- apple yuzu sorbet

7

cold glass of clover organic milk

5
t-shirt 30 // cookbook 50
chef/owner: jeremy fox
sommelier: jenna isaacs, csw
sous chef: elijah deleon, dominic wohlfart
lead line cook: yesie mejorado
chefs de partie: diego orellana, michael fulton, kinsey powell, roman ramirez, max goldstein
large parties
For large parties of 8 or more, we offer a delicious and generous $90 per person family-style menu with beverages charged on consumption and an additional 20% auto-gratuity. Select 2 options from each category and your meal will be portioned out for the amount of people in your party. Email info@rusticcanyonrestaurant.com to book your reservation.
Please note, this is a sample menu, and given we're so seasonal, dishes below are subject to change.
choose two — hors d'oeuvres
milo & olive rosemary-garlic loaf with olive oil

marinated olives

lavender almonds
choose two — cold
white endive, 'barhi' dates, hazelnut, cheddar, date-mustard vinaigrette

beets & berries, quinoa, buckwheat, radish, santa barbara pistachio

sprouting broccoli salad, burrata, cantabrian anchovy, bread crumbs, chili oil

'fuyu' and 'coffee cake' persimmons, pancetta cotto, tamai farms arugula, lemongrass, juniper, yuzu
choose two — hot
sprouting cauliflower, pine nuts, k&k raisins, persimmon catsup, vadouvan curry

warm beef tongue, girl & dug's potato, house pickled cornichon, iceplant, sauce gribiche

farmers cheese gnocchi, terry ranch quince, walnut, brown butter, truffle fonduta

transparentsea prawns diavolo, chili, tomato, organic 'dent' corn polenta
choose two — mains
pozole verde of black cod, tehachapi grain project's hominy and tortilla, 'honeydew' radish

chicken milanesa, 'tokyo negi' onion, cracklings, date butter with ginger

prime brandt sirloin cap, smallhold mushroom conserva, sauce au poivre

bone-in pork chop, 'fuji' apple, fennel pollen, XO sauce
choose two — dessert
warm peanut butter cookie with 'concord' grape jam

baked vanilla cheesecake, justin's private contact passion fruit, hazelnut crumble

brioche brûlée with a dandelion chocolate-cashew terrine, cocoa nibs

honeycomb ice cream -or- pear yuzu sorbet



Beer
Craft beer
Anderson Valley Oatmeal Stout 10

Boonville, California

Edge of the Continent Semi-Dry Cider 10

Humboldt, California

Almanac Kolsch 10

Alameda, California

Boom Town Pale Ale 10

Los Angeles, California

Offshoot Hazy IPA 9

Placentia, California

La Garagista Bouleverser Sparkling Cider (750 ml bottle) 60

Barnard, Vermont
Non-Alcoholic
Erdinger 10

Erding, Germany
Housemade Sodas
Meyer Lemon Ginger

10

Peach Calpico

10

Hibiscus Raspberry

10

Cherry Sarsaparilla

10

Cucumber Lime

10

Grapefruit Rosemary Tonic

10

Strawberry Delicious

10

Cocktails
CLASSICS
Don Draper 18

1960's style rye old fashioned

The Right Decision 18

mezcal, hibiscus, mango, tajin, fresh lime, habanero shrub

Marjie 18

tequila, elderflower, cucumber, mint, fresh lime,
RC spicy phlegathon bitters

Not Too Sweet 18

vodka, seasonal berries, fresh lemon juice, lemon oleo

El Negroni 18

mezcal, Salers, Meletti, RC mole bitters
seasonal
Simmons and Cash 18

spiced rum, cashew orgeat, sage, salted persimmon honey, fresh lime

The Freedom '76 18

gin, dragonfruit, passionfruit, dragon tea, champagne, grapefruit bitters

Going Nuts 18
rye, meletti, oloroso, noyaux, pecan, cherry walnut bitters

Newton's Revenge $18
mezcal, apple three ways, calpico, fennel, ango

Black Hole Sun $18
bourbon, double bock, solar root amazake, fresh lemon, rico pop

J-Dawg's Nog $18
bourbon, cognac, rum, yolks, cream, cinnamon, nutmeg, vanilla, time

Shaken
Penicillin 16

blended scotch, fresh ginger, Malibu honey, fresh lemon,
Ardbeg 10 mist

Moscow Mule 15

vodka, fresh ginger, fresh lime juice, soda

Hemingway Daiquiri 16

white rum, fresh grapefruit, maraschino, fresh lime juice

Naked and Famous 18

mezcal, Aperol, Yellow Chartreuse, fresh lime juice
Stirred
Vieux Carre 18

Michter's US1 Rye, Laird's 7 1/2 Year Apple Brandy, Carpano Antica, Benedictine, Peychaud's Bitters

Executive Manhattan 25

Whistlepig 10 Rye, Four Roses Bourbon, RC vermouth blend, housemade organic preserved cherry, Angostura,
Lee's Chocolate Bitters

Baller Old Fashioned 20

Four Roses Single Barrel Bourbon, demerara,
Angostura Bitters, citrus

Sazerac 18

Wild Turkey 101 Rye, demerara, absinthe rinse,
lemon expression

Wilshire Boulevardier 16

Rittenhouse Bonded Rye, Averna Amaro, Cocchi Torino, Bruto Americano, Lee's Orange bitters

Martinez 16

Ford's London Dry Gin, RC vermouth blend, Leopold's Maraschino, RC tangerine bitters
Wine by the Glass
Sparkling & Champagne
NV Sorgente 14

Prosecco, Friuli-Venezia Giulia, Italy

NV Henriot Brut Souverain 29

Brut, Champagne, France

2021 Mas De Daumas 17

Gassac rosé frizant, Pays d'herault, France
White & Rosé
2021 Michael Andres Muskateller, Pfaltz, Germany 17

Sylvaner Blend, Pfalz, Germany

2022 Domaine Moyer 'A La Source' 18

Chenin Blanc, Loire Valley, France

2021 Ayunta 16

Nerello Mascalese Bianco, Sicily, Italy

2015 Wenzlau Vineyards 'Estate' 20

Chardonnay, Sta. Rita Hills, California

2020 Mary Taylor 'Sylvain Miniot' 14

Gamay Rosé, St. Pourcain, France

2021 Weinreich 'Tacheles' 18

Skin-Contact White Blend, Rheinhessen, Germany
red
2021 Famille Vaillant 'le p'tit vaillant' 17

Grolleau, Cabernet Franc, Anjou, Loire, France

2021 Dupre Goujon 'La Demarrante' 17

Cote de Brouilly, Beaujolais, France

2021 Madson 20

Pinot Noir, Santa Cruz Mountains, California

2016 Malaspina 17

Calabrese Nero/ Nocera, Palizzi, Italy

2022 Felix 15

Blaufrankisch, Burgenland, Austria

2018 Scenic Drive 17

Cabernet Sauvignon, San Benito, California

2016 Petrichor 'Les Trois' 17

Syrah/Grenache, Sonoma County, California
Dessert
NV Henriques & Henriques 11

Madeira, 10 year

NV Niepoort 9

Tawny Port, Portugal
A 4% charge is added by the restaurant to all checks to help offer fully covered healthcare to our employees. Please let us know if you have questions. Thanks for supporting a healthier staff!!
corkage policy: $40 per 750mL bottle, with a maximum of 2 bottles per table. Corkage cannot include any bottle currently available on our wine list.
cake cutting fee: $7 per person