Dinner Menus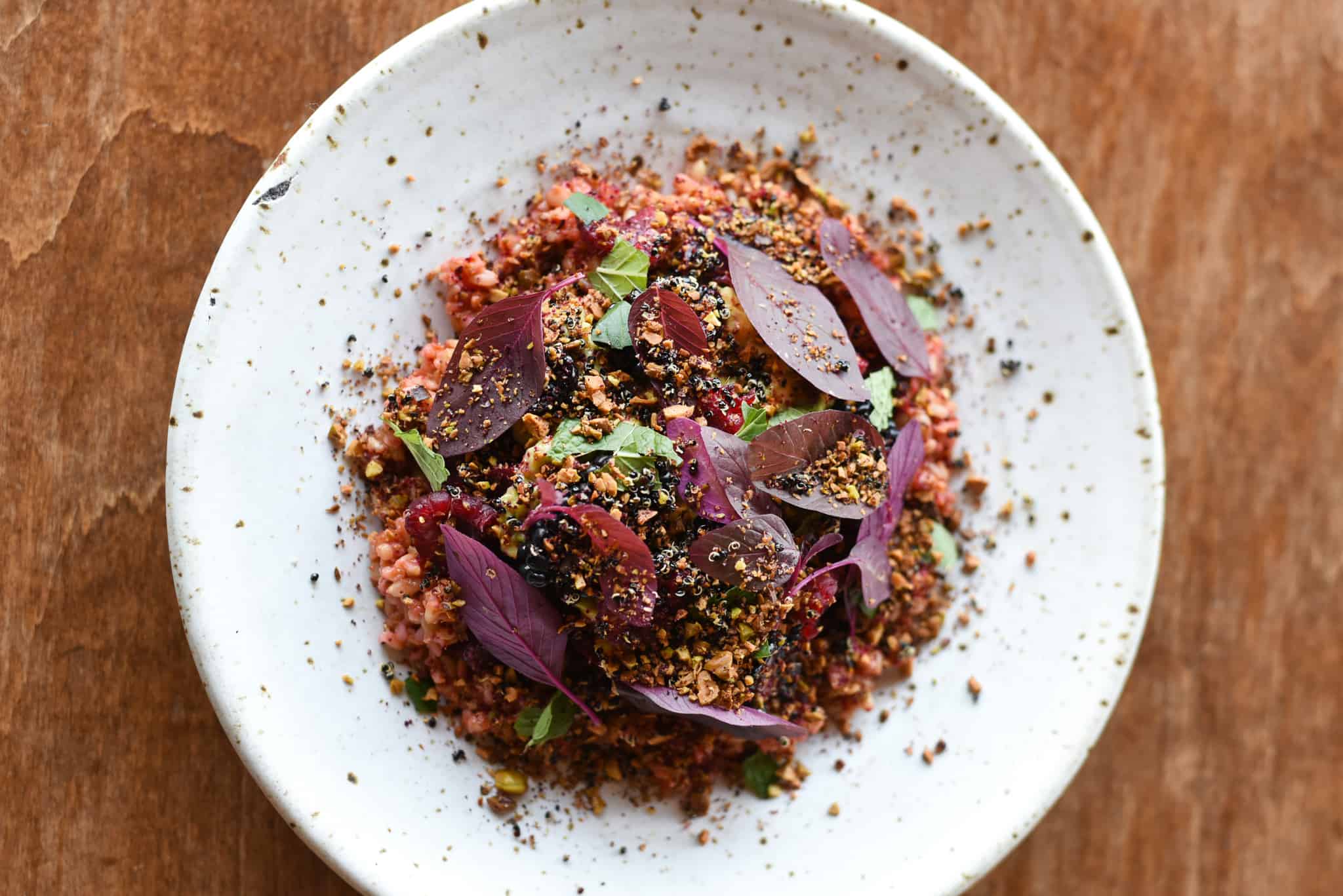 DINNER
11.29. 2022
bread & butter

9

marinated olives

9

lavender almonds

9
The Garden Of lettuces, herbs, & shallot vinaigrette

19

beets & berries with Santa Barbara pistachio, red quinoa & mint

20

Murray's persimmon, black nebula carrot, passionfruit, tehina & lime

22

treviso salad, Windrose Farm 'pink pearl' apple, activated Munak Ranch walnuts & sheep's cheese

24
smoked trout rillettes, Girl & Dug cornichon, mustard seed, & grilled bread

24

stew of spiced chickpea, tomatoes, preserved jimmy nardellos, & za'atar roti

26

grilled 'marina di chioggia' squash, black garlic honey, k&k Ranch raisins, & labne

28

sourdough pasta with Smallhold oyster mushroom & local maitake

32



Mt. Lassen trout, celery root, bok choy, puntarelle & anchovy

43

roasted chicken, 'nantes' carrot, walnut gremolata & brown butter

42

Brandt's prime sirloin steak, preserved habanadas & salsa verde

51

sonoma lamb, salt-baked beets & black currant jus

61
Malibu honeycomb ice cream -or- seasonal sorbet

7

K&K Ranch walnuts, Dandelion chocolate, shortbread cookies

15

candy cap pavlova, JJ's persimmons, preserved yuzu 15
caramel custard cake, Weiser Farms sunchoke ice cream, & crispy seed brittle


14
Our Michelin-recognized Pastry Chef Erika Chan can create a beautiful, custom cake or pie for your celebration at Rustic Canyon, just fill out the request form on our catering & events page. For any outside desserts, our fee is $15/person. 
t-shirt 30 // cookbook 50
chef/owner: jeremy fox
executive chef: zarah khan
sous chef:  keith phillips
pastry chef:  erika chan
junior sous chef: tyler chu
chefs de partie: brad ritter, sean painter, layla pries, velvet lam
Beer
Craft beer
Anderson Valley Oatmeal Stout 8

Boonville, California

Edge of the Continent Semi-Dry Cider 8

Humboldt, California

Almanac Kolsch 9

Alameda, California

Boom Town Pale Ale 9

Los Angeles, California

Offshoot Hazy IPA 9

Placentia, California

La Garagista Bouleverser Sparkling Cider (750 ml bottle) 60

Barnard, Vermont
Non-Alcoholic
Erdinger 6

Erding, Germany
Housemade Sodas
Meyer Lemon Ginger

10

Hibiscus Raspberry

10

Cherry Sarsaparilla

10

Cucumber Lime

10

Grapefruit Rosemary Tonic

10

Strawberry Delicious

10

Cocktails
CLASSICS
Don Draper 17

1960's style rye old fashioned

The Right Decision 17

mezcal, hibiscus, mango, tajin, fresh lime, habanero shrub

Marjie 17

tequila, elderflower, cucumber, mint, fresh lime,
RC spicy phlegathon bitters

Not Too Sweet 17

vodka, seasonal berries, fresh lemon juice, lemon oleo

El Negroni 17

ancho infused dark rum, Carpano Antica, Luna Apertivo,
RC mole bitters, cinnamon

Oaxacan Proverb 17

Siete Misterios mezcal old fashioned with RC mole bitters
Seasonal
I Lost on Jeopardy! 17

Japanese whisky, rye, fuyu honey, whey, fresh lemon

Double Dragon 17

tequila, dragon fruit, passion fruit, elderflower, fresh lime

Clarified Punch 17

mezcal, tomatillo, cucumber, thai chili

J-Dawg's nog 17

bourbon, cognac, lots of rum, egg, cream, nutmeg

Be Somebody 17

white rum, guava, quince, macadamia orgeat, fresh lemon



Shaken
Penicillin 16

blended scotch, fresh ginger, Malibu honey, fresh lemon,
Ardbeg 10 mist

Moscow Mule 15

vodka, fresh ginger, fresh lime juice, soda

Hemingway Daiquiri 16

white rum, fresh grapefruit, maraschino, fresh lime juice

Naked and Famous 17

mezcal, Aperol, Yellow Chartreuse, fresh lime juice
Stirred
Vieux Carre 18

Michter's US1 Rye, Laird's 7 1/2 Year Apple Brandy, Carpano Antica, Benedictine, Peychaud's Bitters

Executive Manhattan 20

Templeton Rye, Four Roses Bourbon, RC vermouth blend, housemade organic preserved cherry, Angostura,
Lee's Chocolate Bitters

Baller Old Fashioned 19

Henry McKenna 10 year Bonded Bourbon, demerara,
Angostura Bitters, citrus

Sazerac 18

Wild Turkey 101 Rye, demerara, absinthe rinse,
lemon expression

Wilshire Boulevardier 16

Rittenhouse Bonded Rye, Averna Amaro, Cocchi Torino, Bruto Americano, Lee's Orange bitters

Martinez 16

Ford's London Dry Gin, RC vermouth blend, Leopold's Maraschino, RC tangerine bitters
Wine by the Glass
Sparkling & Champagne
NV Sorgente 14

Prosecco, Friuli-Venezia Giulia, Italy

NV Chateau de Monthuys 20

Brut, Champagne, France

NV Chateau de Breze 17

Cremant de Loire, Loire Valley, France
White & Rosé
2020 Constantina Sotelo 'Rosalia' 16

Albarino, Rias Baixas, Spain

2014 Forlorn Hope 'Nacre' 15

Semillon, Napa Valley, California

2020 Domaine du Pave 'Different' 15

Tressallier, Loire Valley, France

2020 Walter Scott 'Bois Moi' 20

Chardonnay, Willamette Valley, Oregon

2017 Clos Uroulat, 'Cuvee Marie' 16

Jurancon Sec, France

2020 Mary Taylor 'Sylvain Miniot' 14

Gamay Rosé, St. Pourcain, France

2021 Idlewild, 'Flora & Fauna' 15

Nebbiolo Blend Rose, Mendocino County, California

2021 Mathieu Coste 'Rebelle' 20

Skin-Contact Sauvignon Blanc, Loire Valley, France
red
2020 Karim Vionnet, 'Vin de Kav' 18

Chiroubles, Beaujolais, France

2020 Madson 20

Pinot Noir, Santa Cruz Mountains, California

2020 Maunoury, 'Mon Nom est Rouge' 15

Cabernet Franc, Loire Valley, France

2018 Scenic Drive 17

Cabernet Sauvignon, San Benito, California

2020 Wenzel 'Autark' 18

Blaufrankisch, Burgenland, Austria

2016 Petrichor 'Les Trois' 17

Syrah/Grenache, Sonoma County, California
Dessert
NV Henriques & Henriques 11

Madeira, 10 year

NV Niepoort 9

Tawny Port, Portugal

2017 Domaine de Montahuc 10

Muscat de Saint Jean de Minervois, France
Wine Bottles
A 4% charge is added by the restaurant to all checks to help offer fully covered healthcare to our employees. Please let us know if you have questions. Thanks for supporting a healthier staff!!
Corkage Policy: $40 per 750mL bottle, with a maximum of 2 bottles per table. Corkage cannot include any bottle currently available on our wine list.